Thank you from 602 South Sudanese families
Colin Rye, DAI's CEO & Senior Consultant for Curriculum Development writes:
"In April the Christ Church PCC (Parochial Church Council) agreed, in response to the famine crisis in East Africa, to donate £3,000 from the Church's Mission Contingency Fund to support the relief efforts of Mission Partners DAI (£1,000) and Tearfund (£2,000). I am delighted to advise that this donation contributed to a total of $19,558 which DAI has passed to the Rumbek Diocese of the Episcopalian Church (part of the Anglican Communion). There, our local DAI team, led by Bishop Alapayo Kuctiel, has distributed these funds to 602 needy families to buy life-sustaining food and medical supplies.
Bishop Alapayo expresses his thanks below and, on behalf of all at DAI, I would like to add mine. Thank you Christ Church for you generosity to the people of South Sudan"
---
18 May 2017 Rumbek, South Sudan
Greetings in the name of our merciful and Saviour Jesus Christ, the Prince of peace, love and mercy Amen!
When we asked for help in August, the situation of our people had been very bad compared to their current situation after your assistance. Therefore, you provided for people who could not afford to buy a simple meal for one day. Your gift came at the right time for our people in Rumbek Diocese which falls in the heart of South Sudan. Many people from different places have run to Rumbek for safety.
Your assistance helped 602 people who could have not managed to survive without aid. They will not forget your wonderful gift and they always ask me to share their gratitude and appreciation. You have done a great job for God's people across the globe, more especially South Sudan which is facing a tough political situation which resulted in famine because people could not cultivate their local farms.
The impact of your assistance on our people was also very helpful as they have realized that the Church is for all people in the World, for one purpose of evangelizing, and for transforming the lives of other people who may face difficulties in one way and another. They went even to the extent of comparing your assistance with the two loaves of bread that Jesus blessed and shared among over five hundred people who were following Him for long time without food. Therefore, they ask that God bless you and give you long lives so that you will help others like them in the future as a furtherance of the ministry of Jesus Christ.
We are very thankful and grateful for the $19,558 USD in donations that we received from DAI friends. We will always put you in our daily prayers and God the Merciful and the source of all good gifts will bless you one by one and give you more resources so as to continue doing the work of mercy, love, kindness, sympathy for the furtherance of the ministry of our Lord and savior who gave up his precious and dear life for our salvation and transformation as the new people of God's Kingdom.
Rumbek Diocese will always remember you as long as we are still in existence in the ministry now and in the life to come. May the grace of our Lord and savior Jesus Christ be with us all.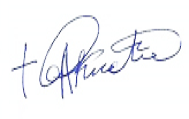 Bishop Alapayo Manyang Kuctiel Nhiera
DAI, Ministry Center Director